Club Pilates is now open in Kingwood! The trendsetting franchise fitness is breaking down the traditional barriers to Pilates workout by offering a modern approach to the traditional method. In addition to amazing equipment and highly skilled instructors, the environment provides a sanctuary for everyone who walks through the doors.
To thank Kingwood community for embracing the new studio, Club Pilates will be hosting a Grand Opening weekend event with complimentary introductory classes on Saturday, September 8 and on Sunday, September 9. During the event, the studio will be offering 20% off memberships for the first three months, 20% off retail, various raffles, giveaways and vendors on-site. To schedule your complimentary class, visit: https://www.clubpilates.com/location/kingwood/class-schedule/?start_date=2018-09-06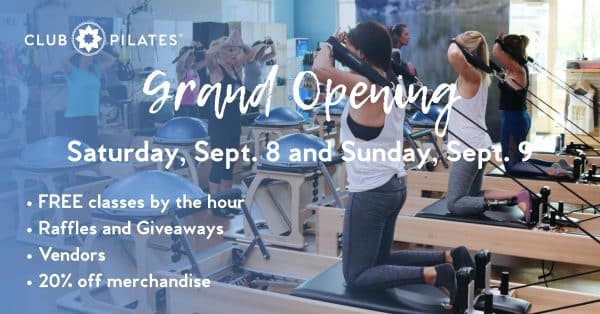 Club Pilates Kingwood and Atascocita are locally owned and operated by Dani and David Wells. "People often ask us why Pilates?" says David, and the answer is simple: "Once we learned about the benefits and the amazing support from the franchise, we knew we wanted to bring it to Kingwood/Atascocita/Humble area".
Dani adds that "Anyone who participates in a Club Pilates class will benefit from the workout routine utilizing the Pilates Reformer" plus "We have a passion for service, and want to help and uplift our members".
David continues to explain that "Pilates is good for both men and women, young and old, elite athletes and those who are new to exercise. The equipment is very safe and the fitness routine can be modified to suit all ages and stages in life." He tells us that he lost over 20 lbs. and gained more flexibility and strength once he started his own journey.
At Club Pilates, Reformer Classes are offered six days a week from morning into the evening to suit even the busiest of schedules. The nature of the Reformer allows for decompression of the spine as well as stretching and strengthening of the body – resulting in an enhanced well-being of the body and mind.
The classes are designed to strengthen, tighten and tone the entire body safely and quickly. The group classes are based on the Principles of Pilates (breathing, concentration, controlled movement, precision, centering, balance, flow, whole body integration), but also emphasize endurance, cardio, strength training and body sculpting to achieve muscle definition and peak physical fitness.
Club Pilates Kingwood and Atascocita studios offer Pilates classes for all levels along with body-weight suspension training TRX, trigger point therapy and barre classes.
For more information about how to become a Club Pilates member in Kingwood, please visit www.clubpilates.com/kingwood or call (832) 592-7953 and for Club Pilates Atascocita visit www.clubpilates.com/atascocita or call (832) 779-2622.
About Club Pilates:
Founded in 2007, Club Pilates is a boutique fitness studio that specializes in strength-training classes for anyone, at any age or fitness level. Based in Costa Mesa, CA, the company is experiencing rapid growth and expects to have 600 locations open by the end of the year. With more than 1,000 instructors teaching over seven million workouts each year, Club Pilates is the first studio to create a 500-hour Teacher Training Program designed to thoroughly and safely teach group Pilates apparatus classes along with TRX, TriggerPoint, and Barre. In 2017, Club Pilates was ranked No. 4 in Inc. Magazine's Inc. 5000 and Inc. 500, listed in Entrepreneur Magazine's Franchise 500 ranking and ranked No. 17 on the magazine's 2017 Top New Franchise list. To learn more about the Pilates franchise opportunity, visit https://www.clubpilatesfranchise.com .