U.S. Transportation Secretary Anthony Foxx and Federal Aviation Administration (FAA) Administrator Michael Huerta announced the successful implementation of the Houston Metroplex NextGen airspace redesign project, which will deliver more on-time flights for passengers while reducing pollution by thousands of metric tons each year.
"Since the start of the space program, Houston has always been a city with an eye on the future, a tradition that continues with the start of our NextGen program here today," said U.S. Transportation Secretary Anthony Foxx. "The NextGen Metroplex we are implementing today is an example for the entire country – of the difference we can make with the help of the federal government and the way we get it done – six months ahead of schedule."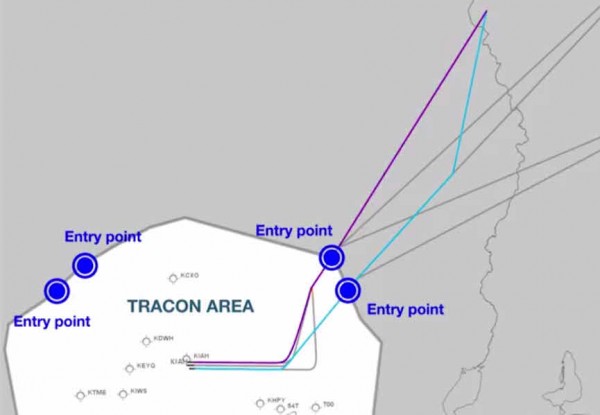 The airspace improvements will reduce distances flown by as much as 648,000 nautical miles annually, based on flight plans. This will save up to three million gallons of fuel and reduce carbon emissions by as much as 31,000 metric tons each year.
"This is a collaborative effort to use NextGen satellite-based technology to turn some of the most complex airspace in the country into some of the most efficient," said FAA Administrator Michael Huerta.
The Houston Metroplex project was launched in January 2012. It was selected by the Obama Administration as one of 14 high-priority infrastructure projects that were ideal for expedited completion. Rather than taking three years to complete, this project was completed in 30 months through environmental streamlining and concurrent reviews.
A Metroplex is a major metropolitan area with multiple airports where heavy traffic and environmental constraints can combine to hinder efficient movement. Metroplex initiatives are under way or planned in more than a dozen metropolitan areas across the country including North Texas, Washington D.C., Northern California, Atlanta and Charlotte.
The Houston Metroplex initiative includes a number of strategies that have streamlined the airspace and helped reduce complexity for air traffic controllers and flight crews. As part of the program, the FAA developed 61 new procedures to take advantage of the precision of Global Positioning System (GPS) technology.
The strategies included:
Creating Optimized Profile Descent (OPD) procedures into George Bush Intercontinental and William P. Hobby airports. OPDs allow pilots to almost idle the engines while the aircraft descends at a constant rate, like sliding down a banister. Previous airspace procedures required planes to level off at certain points to allow for coordination between air traffic controllers. OPDs reduce fuel consumption and carbon emissions.
Creating more efficient routes between Houston and the Dallas/Fort Worth Metroplex areas to shave miles off of each flight through this busy corridor.
Developing similarly efficient alternative routes that can be used when bad weather affects normal arrival and departure paths.
Establishing departure and arrival routes that align airplanes on preferred paths, reducing the number of miles flown.
Utilizing side-by-side arrival routes into George Bush Intercontinental Houston Airport to increase airspace efficiency and provide more direct routing.
Developing satellite-based departure procedures that provide predictable, repeatable flight paths that enable planes to climb steadily without leveling off from time to time, allowing them to reach a cruising altitude sooner.
The airspace improvements are part of the FAA's overall NextGen program, which is transforming the radar-based air traffic control system into a modern satellite-based system. A key component of NextGen has been in use over the Gulf of Mexico since January 2010. Aircraft equipped with a technology called Automatic Dependent Surveillance-Broadcast (ADS-B) are able to constantly broadcast their location, altitude and speed, allowing the FAA to provide radar-like services to areas that previously had no radar coverage.
The collaborative regional partnership that made the Houston Metroplex a success includes the FAA, the National Air Traffic Controllers Association (NATCA), United Airlines, Southwest Airlines and the Houston Airport System.
"Air traffic controllers strongly support the integration of new technologies that help enhance the safety and efficiency of our National Airspace System," said NATCA President Paul Rinaldi. "The Houston Metroplex project fits that bill in a big way. We are proud of our team's role in the exciting and important process of planning and preparing these new procedures so they could be safely implemented. NextGen is no longer the future – it's happening now. Houston is the latest in a series of successes, thanks to the strong collaboration between all stakeholders."
"Southwest is grateful to the FAA for their diligent work to redesign the complicated airspace surrounding Houston and we look forward to examining the data, which should illustrate the advantages attained from this effort. Such advantages would include reductions in fuel burn and green-house gas emissions – ultimately, benefiting the Houston community, our customers traveling from and through Houston, and the environment," said Southwest Vice President of Operational Coordination, Chuck Magill. "Our partnerships with the FAA and Air Traffic Controllers across the NAS are paramount to our efforts to transform the NAS through NextGen concepts."
"This redesigned airspace allows us to take full advantage of technology we already have on our aircraft, while simultaneously reducing fuel burn and emissions," said Jim Compton, United Airlines vice chairman and chief revenue officer. "We want to recognize the work of the Houston ATC facilities in partnering with us for a successful implementation."
"The City of Houston and the FAA already enjoy a solid tradition of establishing effective partnerships with one another and this initiative is the latest example of that fact," said Houston Mayor Annise Parker. "Houston is proud to once again stand at the forefront of the aviation industry because we recognize the importance of efficient global connectivity."