LINE THE STREETS AT 5:45 P.M. on May 19, 2022!
This year the motorcade starts in Summerwood, and ends at the Humble Civic Center.
Join us again this year in welcoming over 200 Wounded Warriors as their buses are escorted by local law enforcement through HKA TEXAS!
The motorcade will travel on West Lake Houston Parkway from the beltway though Summerwood, past the entrances of Lakeshore, The Groves, pass by Atascocita High School on Will Clayton Parkway, through Eagle Springs and continues down Will Clayton Pkwy on their way to a Special Warrior's Dinner at the Humble Civic Center!
Bring a lawn chair, posters and American flags to wave as these wounded men and women pass through our neighborhoods. 
Let them know that Texans love and appreciate their sacrifice and service!  Times could change depending on traffic.
5:30 pm – Buses depart from hotel located at Bush Intercontinental Airport.
5:45-6:30 pm – (Summerwood) Buses will proceed slowly northbound on West Lake Houston Parkway from Beltway 8.
The Warriors will travel northbound then turn onto Will Clayton Parkway and travel westbound toward the Humble Civic Center located at 8233 Will Clayton Parkway.
6:30 pm – Heroes parking lot welcome at Civic Center

ARENA PARKING LOT

.
Wounded Warriors will exit their buses around 6:30 pm.
Dinner (Entrance is restricted to Warriors and accompanying staff only)
Coordinate locations in your communities.
This is the small portion of Wounded Warriors Weekend held each year in Texas, a fun time fishing and relaxation for wounded American Warriors, their families & caretakers.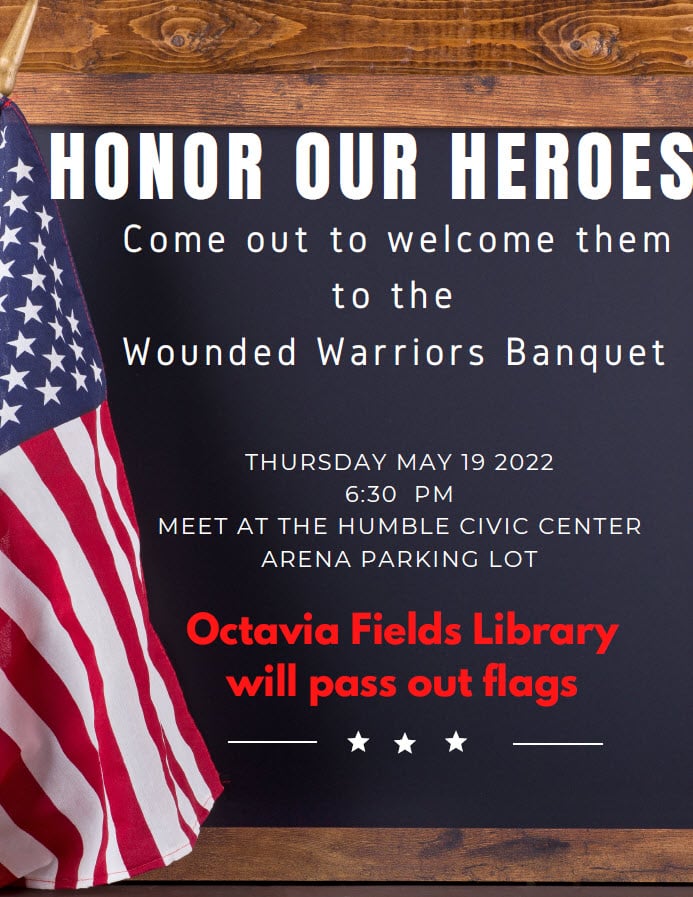 2015 Wounded Warriors Motorcade through Humble and Atascocita, Texas