JUST BETWEEN FRIENDS The NATION'S leading children's and maternity consignment sale is September 24-26, 2015 in Humble, Texas.
Buy and sell the best in gently-used children's clothes, toys, baby equipment, nursery furniture, outdoor play equipment, DVDs, books and pretty much anything that has to do with raising kids.
Consignors can earn up to 70% and Volunteers shop first!
Hosted at The Gym located at 2325 Atascocita Road, Humble.
Everyone is welcome and you don't have to register to shop.
THURSDAY PRESALE – Sept 24th
Qualified Ticket Entry Only
9am  Entry – 12 hour volunteers
9:30am Entry –  8  hour volunteers
10am Entry –  4 hour volunteers
10:30am Entry – Consignors (+ 1 Friend)
11am Entry – First Time Parents, Teacher and/or Grandparents (+ 1 Friend)
(Pre-registration is required for an entry ticket)
OPEN TO THE PUBLIC – NOON – 8pm
$2 Donation – 1st DAY ONLY
FRIDAY 9am-8pm Sept 25th
OPEN TO THE PUBLIC – FREE ADMISSION
SATURDAY February 28th – 50% OFF SALE
HELPERS – 8:00 – 8:30
CONSIGNORS – 8:30 – 9:00
9am-2pm OPEN TO THE PUBLIC – FREE ADMISSION
All items WITHOUT a star on the tag are half the marked price!
For more information and a free admission pass, go to www.kingwood.jbfsale.com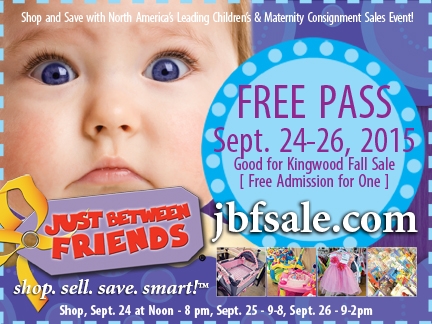 [google_map location_id="3050″/]